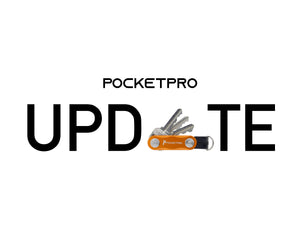 We've been super busy during the last few months as we grow the PocketPro brand! Here is a small update on what has happened and what to look forward to in the coming months!
Updates
Our office in Payson, Utah has seen some new faces recently. We have hired some new employees to join the PocketPro Team, and we couldn't be happier to have them. We set some really high goals when we started this journey, and we are so proud to see the progress we have made!
Our first goal was to get this website set up. Here we are. We made it :)
Our second goal was to reach the first page of Amazon search results before Thanksgiving of 2019. Well, it's not even Halloween yet, and we already made it! Thanks to the dedicated work of our marketing team, PocketPro Key Organizers has reached the first page of search results on Amazon and we are churning out a bunch of sales every day!
What's to Come
BIG things are happening! We are so excited for the future of PocketPro, and we are having a hard time holding back all the great news! We're trying to contain ourselves, so here is what we can tell you so far:
We will soon be manufacturing and selling a new product! We are stepping outside of our shell and expanding our product offering to include something beyond key organizers. We already make the greatest key organizers on Earth, so we figured we would see what else we could improve. We have a new minimalist wallet in the works, and it's going to be rad. 
Our new minimalist wallet will be very high-end, very sleek, and very awesome. You won't want to miss the chance to be one of the first to buy it! The beta versions of the wallet and its packaging look incredible, and we are getting really close to full-scale production. When we're ready to move into manufacturing, we will update the world here on our blog and on our PocketPro Instagram page. 
That's all for now, folks. Thanks for reading!