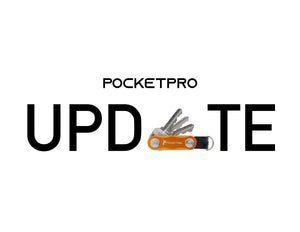 Welcome back to the PocketPro Blog!
As expected, things have slowed down just a little bit since Holiday shopping came to a close. As such, we've have some time to catch up on projects we had to put off due to the Holiday demand.
Updates
We mentioned in the December 2019 update that we have been working on a new key organizer design. Well, we have some good news to share! Our Singularity redesign has been completed, and we are in full production right now! Our packaging designs were sent out to the printers today, and hundreds of pieces are being anodized as we write this blog.
The newly designed Singularity will be called the Singularity 2.0, and it's slimmer, sleeker, and lighter than its predecessor. If you could turn a Lamborghini into a key organizer, it would look like the Singularity 2.0.
We hope to launch it within the next month or two, and we couldn't be more excited to show it off all over the internet.
In other news:
We opened a PocketPro kiosk in a local mall close to our Payson, Utah headquarters. We opened the kiosk so that we could see how people reacted to our products in person, understand our customer base even more, and make any changes necessary to better connect with our people. As part of everything we have learned from the kiosk, we have updated the aesthetic of the PocketPro brand. You can see how it's playing out on the PocketPro Instagram page.
What's to come
Aside from the aforementioned PocketPro Singularity 2.0, we also have a few other new products in the works!
First off, we are in the finishing stages of launching not one, but TWO quick release keychain connectors! The design will allow you to connect/disconnect your key organizer to any car fob or keychain without having to spin it through a difficult key ring every time. One version uses two small neodymium magnets that hold your key organizer and your car fob together. They require over 7 pounds of force to separate, so you'll never have to worry about your keys falling apart. The second version uses two machined 6061-T6 Aluminum parts that snap together with an extremely satisfying 'click.' You'll want to keep snapping them together over and over. This version requires over 5 pounds of force to pull apart, so you still won't ever have to worry about your keys falling apart on you.
Secondly, we have completed a design for a new key-shaped multitool that will fit perfectly in our key organizers. This new multitool will have a can opener, a box cutter, a screwdriver, a wrench, a ruler, and more, all in one small tool the size of a standard key! We have seen a lot of success from similar products, so we decided it was time we created one of our own! It will available in the coming months, and we think it will be incredibly useful for all of our customers.
As usual, if you stuck around to read all the way to the end of this blog post, then we owe you a high five and a hug. Unless you're not a hugger. In that case, two high fives.
Til the next update!